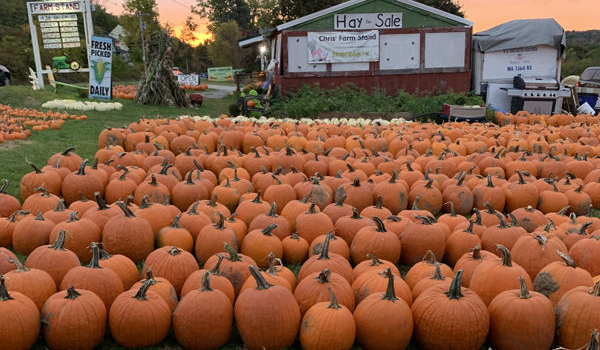 We grow a wide variety of prize winning sizes and colors in our pumpkin patches, from small hand held munchkins to xtra large carveables, some with bumps, some with two colors, some batwings, some of the elegant white luminara pumpkins and we grow Irish pumpkins.
We have all kinds of Fall decorations for sale cornstalks, beautiful colored mums, and straw bales.
We celebrate our pumpkin harvest with our annual pumpkin festival where we have great Fall Farm fun and help educate people where their food comes from. We open the farm to the public.
Starting Columbus Day weekend and are open every weekend 12-4 pm until November 1st.
All activities are outdoors and not open during inclement weather.
Great Fall fun and activities:
Narrated hay rides
Pumpkin patch
Cow train
Hay castle
Art maze
Little's haunted house
Farm animal displays
Tractor display
Farm games
And a country BBQ
We have a really fun contest every year for the best Scarecrow design, which will earn the winner free food!
Annual Scarecrow Contest
We invite our community to make a durable outdoor scarecrow to line our fields up to Carter's Ice cream to help Haverhill get into the Halloween spirit!
And Win free Farm fresh food!