A Community Supported Agriculture membership is simply way for farmers and families to join together to put the freshest fruits, vegetables, and meals on your dinner table. All you need to do is become member before the growing season. This enables the farmer to buy the seeds, to grow produce specifically for you that varies throughout the season. We have limited memberships available.
Our unique CSA shares usually has about 5 different vegetables and a rotation of fruit of the season, herbs, or honey.
small share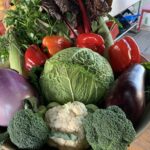 $550
feeds 1-2 people
large share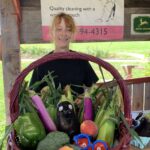 $825
feeds 2-4 people
Members will visit the farm weekly to receive their portion of a seasonal variety of vegetables starting the last week of June through late October.
Haverhill pick up is Tuesday 2-6pm, Peabody is Thursday 2-6pm.
Limited membership. As a member, you reap the rewards of the harvest as well as share in the risks that come with inclement weather and pests. We do co-op with other local farmers to bring you the best of what New England has to offer! The way to a healthier you, is to eat a rainbow of colored vegetables!
Expected 2022 Harvest
Apple
Basil
Beans

Green
Yellow
Purple (magic)

Blueberries
Brussel Sprouts
Beets
Cabbage
Carrots
Cauliflour
Celery
Celeriac
Cucumbers
Eggplant
Herbs
Kale
Lettuce
Melon
Mint
Onions
Oregano
Parsley
Parsnips
Peaches
Pears
Peas
Peppers

Purple
Red
Yellow
Green
Hot
Handy Pack

Potatoes

Red
Sweet
Baker
Chief
Baby

Pumpkins

Large/Small Carving
Sugar
Munchkins

Spinach
Strawberries
Summer Squash
Sweet Corn
Swiss Chard
Tomatoes

Beefsteak
Plum
Cherry
Heritage

Winter Squash
Zucchini